The Sacramento Solons of 1947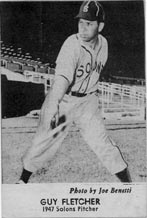 GUY FLETCHER
Solons Pitcher
Throws right; bats right
Height 6' 1"; weight 188

Guy Martin "Marty" Fletcher was born in East Bend North Carolina, on October 23, 1913. Of Irish-German discent, both of his parents were born in the United States. His father was a farmer.

Guy attended high School in Yadkinville, North Carolina, where he was a baseball standout. He also graduated from the University of North Carolina with a degree of B.S. He pitched a two hitter in his first professional game, and won, as he deserved. His favorite player was Ted Williams.

Winter occupation, payroll auditor. Hobbies, hunting and golfing. Personal preferrences -- movies, dramas; clothes, semi-sport; food, steaks; reading, good fiction; women, clean cut and athletic.

In 1941, he played for Dallas, in the Texas League under manager Wally Dashiell. In 1943, he played for Richmond, in the Piedmont League. In 1944-45-46-47, he played in the Pacific Coast League for Sacramento, under managers Earl Sheely and Dick Bartell.




HOME

Copyright 1999. William B.Shubb.