The Sacramento Solons of 1947
EDWARD RAYMOND FITZ GERALD
Solons Catcher
Nickname --"Fitz"
Throws right, bats right
Height -- 6'
Weight -- 180lbs.
Born Santa Ynez, California, May 21, 1924. Irish descent. Attended high school in Santa Ynez, where he starred in baseball and basketball. Attended St. Mary's College. Father is a pumper for Signal Oil Co. Owes most to Earl Sheely. Wants to won an orange or lemon ranch. Once captured two Germans on the Rhine during the war. Superstitions: "Never touch the baselines!" International League and Sacramento, P.C.L.

---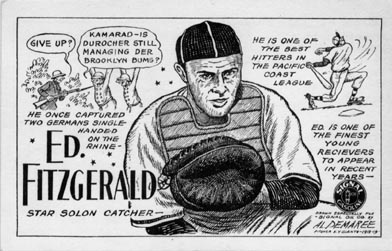 Copyright 1999. William B.Shubb.