The Sacramento Solons of 1949
---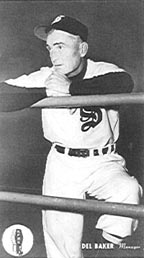 Del Baker
Solons Manager

After the Solons' ballpark was destroyed by fire in the 1948 season, the Sacramento Baseball Association acquired veteran major league manager Del Bakerto bring the team back in 1949.

Baker, 56, a 38 year baseball veteran, had managed Detroit for six seasons, leading the Tigers to a pennant in 1940.

Although the team set attendance records, they finished third. At his own request, Baker was released from his contract and became manager for San Diego the following season.


HOME

Copyright 2001. William B.Shubb.